What You Need to Know about Opening a Dental Clinic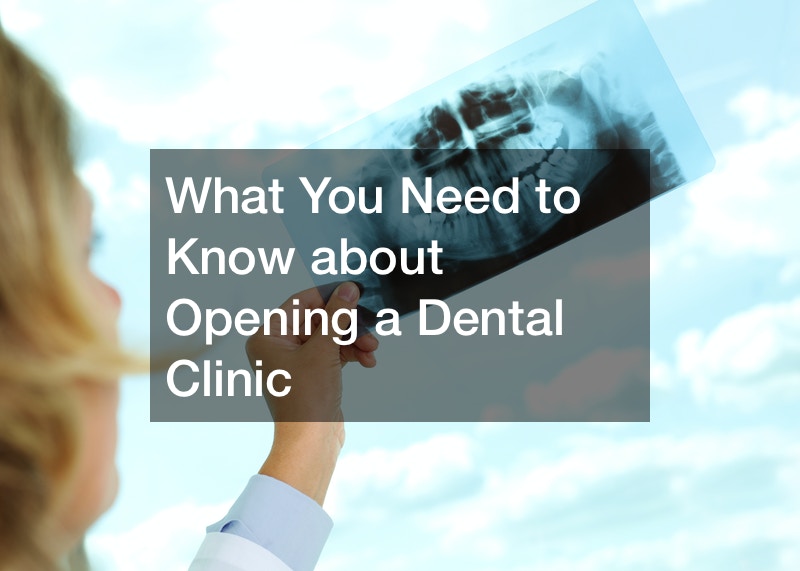 The dental industry carries an abundance of potential for those who want to start their own business. However, it's a very risky and capital-intensive choice. The implications of opening a dental clinic can be life-changing – or killing your dreams before they become a reality! Before you take the plunge into this kind of endeavor, ensure you know some very important things. To assist you in this huge step, we've put together a list of questions that will help you figure out how to open a dental clinic. The questions will also give you more understanding of what you need to know when entering this field.
How much money do you need to start up your business?
If opening a dental clinic is your dream, you probably have thought about how much money is needed to open one. It is estimated that it takes approximately $130,000 to start up a dental clinic. This figure includes the cost of equipment that is required in your office. The following are the main factors that contribute towards the total startup costs of a dental clinic:
Rent. Property location usually determines whether rent deposits are required or not. Please make sure you also include utility bills in your expenses as they can be high for commercial purposes.
Equipment. The cost of equipment varies depending on which country you are in. For example, medical equipment is cheaper in Pakistan than in Europe or America.
Marketing. Flyers and business cards are usually not expensive, but it all depends on what you want to use them for.
Employees. This is especially important during your first few months as most clinic owners can't do everything themselves, so they hire employees to assist with the day-to-day activities of their office. This includes receptionists, dental assistants, dental hygienists/ technicians, among others. Please make sure you find individuals who have experience working with dentists before hiring them. Experience working in a dentist's office will be beneficial to both the new company and the employees themselves.
After considering these factors, it is estimated that a dental clinic will need around $130,000 to start up. This figure may change depending on your clinic's location and demand for services in your particular area. The figure may also change when you incorporate various miscellaneous maintenance in your budget, such as heating repair that may be required once in a while. In this case, budgeting is important when figuring how to open a dental clinic.
What types of equipment and technology will you need?
The type of equipment is also vital when thinking about how to open a dental clinic. It would be best to think about the equipment and supplies you will need to open your clinic for business and those necessary to keep it operating every day. You can buy or lease as is right for your situation. For example, if you are starting from scratch, you might consider renting until the business is established enough to include buying new equipment in your budget. Suppose you already have dental office space but no equipment. In that case, leasing is often a good answer because it allows people with limited capital an opportunity to set up shop and begin seeing patients immediately – and that helps build patient loyalty, which leads to repeat business.
A dental practice requires a large number of modern equipment and technology to ensure optimal patient care. You will need to invest in everything you think you might need so that patients can enter your clinic and feel safe and well taken care of. Here is a list of some of the most common equipment and technologies:
Digital radiography: also known as X-ray, this form provides high-quality images. It is best for its non-invasive nature, making it possible to take pictures without radiation or exposing the skin surface to ionizing radiation, which could potentially cause cancer.
Ultrasonic scaler: ultrasonic scalers help clean teeth up to two times faster than their manual counterparts, making them perfect for busy dental clinics.
Wheelchair: if you plan to be among child dentists to treat children, then it is best to use a wheelchair that will allow them to move around safely throughout your clinic. Make sure that there are armrests and headrests for added safety. Other chairs, such as lift chairs, are also vital in maintaining comfort.
Waste management system: specialists recommend that all expensive equipment be placed in well-organized storage units so that unqualified personnel does not have access to them. You will need an efficient disposal system or drainage solutions along with an autoclave or incinerator to eliminate infectious waste and other materials that may be considered hazardous.
Who is going to be on staff at my dental clinic?
When figuring how to open a dental clinic, staffing is vital. This can be done with various personnel and different levels of experience and education. For instance, you largely need a dentist who will perform the dentistry, assistants who will help the dentist, and also work as front desk receptionists. In addition, you will need office managers who will oversee all aspects of the practice, such as finance and patient care, and hygienists who clean teeth under the dentist's direction. You will also need reception or office staff such as secretaries or assistants or other administrative staff. Some practices may install systems that allow for patients to check-in for their appointments via computer kiosks.
If you decide to hire more than one, the dentist or doctors need to be well trained in various aspects of dentistry. They should have graduated from an accredited school and possess current licensure where they live and work. If you buy a franchise, your dentists will probably all come from one of those schools which gives them training from the same source. This way, they know how their coworkers do specific procedures and rely on each other for help. In addition, it increases business when people see familiar faces because they develop loyalties based upon seeing the same people over time – especially if they are friendly and provide quality service. Therefore, do not forget about this essential aspect when contemplating how to open a dental clinic.
What are some essential components of my business plan?
As you start to put together your business plan, certain things will need to be decided and outlined for you to get the most out of it when contemplating how to open a dental clinic. Every small business needs a mission statement (purpose and goals) and a list of standards and procedures. What this means for your dental clinic is: if there's no purpose behind getting one or even having one, then what does each person working in your office want from their job? And how do they personally define success? But don't forget about the customers (patients) either. Once you know the answers to these questions, creating policies like infection control guidelines and making sure everyone knows them inside-out will come much more easily. Having a mission statement also means that you'll be completely clear about the type of clientele you wish to serve and what kind of dentistry they can expect from you. You will also need to know how your clinic plans on differentiating itself from others in the area because competition is what it sounds like: everyone around trying to accomplish similar things (or very specific things).
Competition can motivate businesses to excel, but only if they know their competition. If you're not always aware of where your clinic stands compared to other nearby offices, then the chances are good that no one else working for you is either. So, when another business in town makes an announcement or starts offering something new (like free coffee or child care), your staff will need to know how they can continue being successful or even more so. Once you decide what is most important, it will be easier for everyone in the office to work toward a common goal. You probably do not want to forget a business plan when figuring how to open a dental clinic.
What type of insurance do you need?
When contemplating how to open a dental clinic, you need to know what insurance is necessary to cover your patients. Getting insurance for your business can be an overwhelming and time-consuming process, but there are steps that you can take to avoid getting overwhelmed. First of all, if you already have a general liability policy (for example, covering an office building), make sure it covers dental equipment and will pay for any injuries related to the use of the equipment.
Second, if you are considering hiring employees, get workers' compensation insurance or disability insurance for them. Third, hire accountants trained in healthcare accounting to sort through all the options available with medical reimbursement policies (even though they might not provide reimbursement).
When looking for dental insurance, there are many options in the market. Commercial insurance companies offer different plans with different premiums, so it is advisable to understand all the available plans before thoroughly choosing one. This way, you will be able to weigh which plan works best for you financially. When obtaining cover, it is also crucial to consider getting an attorney to assist you in compensation processes in the case of uncertainties.
What type of market research should I conduct before opening up my new business?
When figuring how to open a dental clinic, it is necessary to be well-informed about what you are doing. You need to have already done the market research to know whether or not your business will be profitable when everything is said and done. Here are the things you should know about conducting market research for your dental clinic.
Know if there is demand for services in your area. First of all, it has to be determined if there is a need for more dental clinics in your region or community. The population must indicate an obvious need for additional support when taking care of their teeth. Only then will opening up another facility in the region makes sense financially.
It is necessary to do more than meet with an accountant or tax professional to make sure you are financially prepared to open your clinic. Professionals like accountants will be able to tell you how much money you can spend on equipment and supplies without having too high of a tax burden at the end of the year. Still, it is recommended that you use software programs that keep track of all of your business's financial data. This way, if there are any loopholes in your finances, they will be flagged early before things get out of hand.
When conducting market research, it is important to survey potential customers to see what services they are interested in. Some customers may want five or six-month cleanings instead of three-month cleanings, while others want fluoride varnish treatments for their teeth every six months. There's no way of knowing which kind of customer will walk through your door on any given day, so it is best to make sure you have all bases covered to determine what types of services people are willing to pay for.
Several online tools are available to help you provide the right type of dental care for your patients. However, not all customers will come in with an open mind regarding what they want to be done, so it is important to get clear answers directly from your potential customers. Some people may not even know which dental procedures they need until they speak with a dentist about their teeth and gums. So, be sure to use market research techniques to get immediate feedback on what people want from their experience at your clinic.
If you conduct thorough enough market research before opening up your dental clinic, then you will already have an idea of how many new patients you can expect every month. This information can also help determine how big or small your waiting room needs to be, how big or small your parking needs to be, and where to appropriately install your parking sign. Moreover, you can also determine how many dental assistants are needed on staff, what kind of contractors you will need, for example, best commercial caulking contractors, and which kinds of procedures you need to have in stock. Conducting market research is one of the most important things that you can do before opening up a new clinic because it will give your business the best chance of success when everything is said and done.
Dental clinics can be expensive to open and run, but this is a great opportunity if you have the background on how to open a dental clinic. Before you jump in and start looking for your equipment, office installer, and staff, do some research into what exactly goes into starting a dental clinic and see if it would be worth your time. Ensure that there is enough population to support such a business, the laws surrounding it are favorable in your area and find out all kinds of other information before you take the plunge. You will need capital to get started, too, so make sure that you plan accordingly.