The Modern Dentists Guide to a Dental Office Retrofit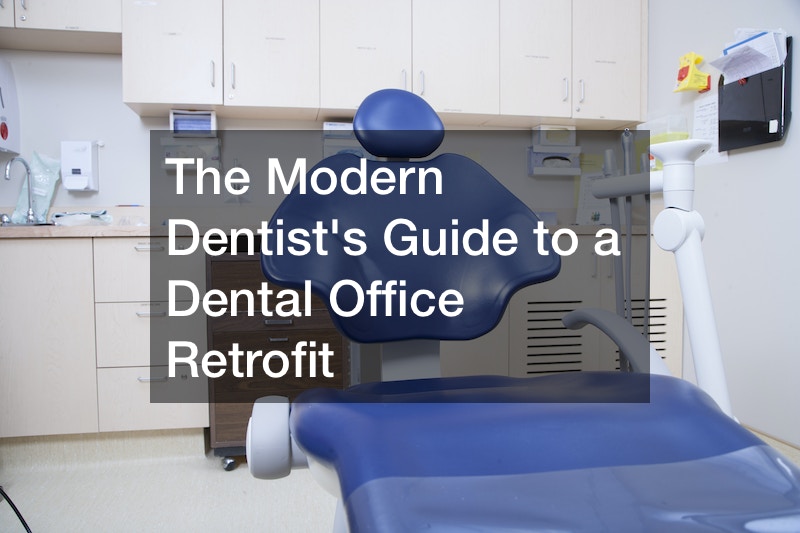 A dental office should be a modern medical establishment that offers the best services to all its customers. Although most modern dental offices provide quality services and work with advanced equipment, others aren't interested in improving their medical equipment. A dental office retrofit is the best investment for dental offices that want to attract new clients and enhance their services.
You can bring comfort and new clients by starting a dental office renovation project. Let's analyze the best tips everyone should follow to make a great dental office retrofit project.
What Is a Dental Office Retrofit?
Most dental offices have the fundamental tools and equipment to treat dental diseases and other discomforts. However, times change, and technology advances quickly, improving each aspect of our lives, including medicine. Nowadays, most dental offices understand the importance of modern dental tech and how it can ease their work and improve their results. One of the best ways to modernize a dental suite is by doing a dental office retrofit project.
Visiting the dentist can generate stress and fear in most patients. Most of this fear comes from negative experiences and suffering from pain and annoyance during dental procedures. A dental office retrofit project can reduce negative experiences by adding comfort and modern tech to your medical procedures. The retrofit adds affordable, state-of-the-art dental tech that will provide what you need to treat your patients. Although it can be a complicated renovation project, it will attract new clients and bring the best results to your dental procedures.
Prepare Your Office for Modern Dentistry
Consider your patient's comfort and safety when planning a dental office renovation. The shape and tools in your dental office are a statement about how much you care about your patient. Using obsolete equipment and barely-functional dentist furniture can leave a negative impression on your new patients. Moreover, if you care about your patient's health, you should modernize your dental suite by planning a renovation project. Enhance your workspace and bring a new sense of comfort and safety to your patients, letting them know that you have the best medical equipment up to date.
Upgrading to newer medical devices will improve your services and add something new to your dental office. However, you must consider accommodations and space, as your new equipment might need more space than your previous equipment. When deciding the dimensions for your dental office renovation project, consider adding more room for future installments and medical tools. New furniture for your waiting room is also advisable if you want to leave a good impression on your patients. Add a new TV and a comfortable couch to enhance comfort and let your patients know you care for them.
With the help of the most advanced dental tools, you can offer new dental services that will captivate the interest of new patients. For instance, start an implant dentists office and enhance your medical practice by being one of the first dental offices in your town to provide these services. Although most of the latest medical tech is expensive, they will pay for themselves over the years due to your new services.
Create a Calming Environment for Patients
As stated earlier, a dental office can be scary for your patients. Fear of going to the dentist is common among young children and adults, as they fear the pain and discomfort during a dental procedure. Making accommodations and a safe space for your patients shows how much you care for them and their well-being. One of the first goals in each renovation project is to bring a new comfortable aesthetic to your surroundings. If your dental office is a comfortable and trustworthy place, your patients will leave their worries and fears behind the entrance door.
Providing quality dental care is more than the latest tools and techniques. Provide privacy and space for your clients, where they can feel the attention they deserve when they enter your dental office. One of the best perks of a dental office retrofit is how you can add new appliances and furniture to enhance the dental office's surroundings and add something outstanding for your patients. Bring new decorative elements to your waiting room, such as carpets and chairs. If you want a relaxed dental suite that can maintain a peaceful ambiance during any dental procedure, focus on getting the best furniture for your renovation project.
Offer a Wider Range of Cosmetic Services
One of the most common dental procedures is a dental braces treatment that modifies and rearranges teeth. Although braces are a crucial orthodontic procedure to improve your teeth, they are also a cosmetic service that enhances your appearance. Moreover, cosmetic dentistry has a critical role in a dental office, representing a new wave of patients and an extra income for any dentist. Dental care is more than treating complicated dental issues. By offering cosmetic services, you'll reach new patients interested in improving their appearance rather than having dental problems.
Providing cosmetic services requires new equipment and resources that most basic dental offices neglect. If you plan to add a dental office retrofit project to your workspace, you might consider buying new dental equipment for cosmetic services. Dental procedures such as fixing a crocket tooth and braces are essential services every dental office should offer. Moreover, cosmetic procedures represent a big chunk of passive income and give your patients a visible improvement in their dental health.
Install Advanced Whitening Equipment
When you invest in a dental office retrofit project, you strive for efficiency, and improving your dental services should be one of your concerns. However, you'll need more than good practice and professionalism to become the best dental office in town. You must be in touch with the latest dental health to improve your dental services, including adding the best teeth whitening products and equipment for your patients. Most patients will want teeth whitening services after a dental checkup or procedure. As a professional dentist, you must offer a durable and reliable service that will last until the next dental appointment.
Cutting-edge technology should be a must-have for your dental office retrofit project, as it will enhance your dental practice while adding new services for your patients. Moreover, a professional teeth whitening service will increase your patient's comfort, as it's a rewarding dental procedure that doesn't harm or cause pain. If you wonder where to start with your dental office retrofit, buy dental laser equipment and a new dental chair that can hold a teeth whitening service.
Turn a Standard Dental Office Into a Periodontic Office
Modern dental establishments understand the importance of periodontic practices, as they are cost-effective dental procedures that require a substantial investment. Periodontics is more than adding prosthetics and dental implants, as it's a new wave of dental medicine that requires new technology and knowledge. However, most periodontic dental practices are in high demand due to how much they improve a patient's life. Due to the latest medical advances in dental implants, everyone can have a sturdy and almost-unbreakable implant that will enhance a smile while doing the same work as other teeth.
Periodontics are perfect for multi-tooth restoration and complicated dental procedures that require the latest tech. If you want to invest in expanding your dental techniques and offering the latest in dental health, you should start by adding a periodontic office to your dental establishment. Although implants are a complicated procedure that requires expensive dental resources, they are quick to install and don't require too much following. Moreover, implants give your patients a good return on their investment, as they are durable and reliable.
Invest in Sustainable Building Design
It's hard to trust an old, outdated medical building, as they don't show as much safety and comfort as modern buildings. Put yourself in your patient's shoes. They won't want to assist a dental office in an outdated building filled with moss and other exterior elements. Moreover, they prefer a clean establishment that shows safety and health where they know they can trust their doctors. An old building can have leaks and cracks in its infrastructure, compromising your patient's trust and health. Trust sustainable architecture, and update your building design to match your dental services.
A sustainable dental office building will save you in future expenses, as they are long-lasting, reliable structures that don't need too much maintenance. Investing in a new building can be expensive. However, it will give your dental office a good reputation and a new look. Lastly, sustainable buildings are eco-friendly and reduce the harmful effects most buildings have on biodiversity. If you want to minimize your CO2 emissions and do something positive for nature, a sustainable building might be your best choice.
Add Features for Patient Privacy
Each change made in your dental office should be for your patient's comfort. Think about those elements that enhance your patient's experience in your dental office and add new furniture to increase their comfort. A crucial aspect of every medical establishment is privacy. Avoid your patient feeling uncomfortable or distracted by the appearance of others and reinforce a professional workspace where your patients can feel safe. Moreover, privacy improves your patient's trust in your business and will help you gain new patients.
There are numerous ways to enhance privacy in your dental office. Adding commercial glass door shades around your dental suite will prevent onlookers from trying to take a peek. Moreover, following the privacy laws in your state is mandatory, and you should learn more about the PIPEDA laws if you want to reinforce privacy while promoting your dental practice. Although privacy can be a complicated topic for most dental and health establishments, they are easy to follow once you receive assistance and stick with the state laws.
Enhance Building Security
Medical supplies and equipment are expensive, which makes them the perfect target for burglars and intruders. A medical office can be a goldmine for local thieves, and you can be one of the victims if you don't enhance your building security measures. Following the basic commercial security plans, such as security cameras and modern locks, you can increase your business safety and protect your medical assets. Moreover, you might want to add motion detector sensors and high-security keys in those crucial rooms where you don't want any uninvited visitors.
Your dental office's outdoors should be well-illuminated and protected from harmful visitors. Neglecting your landscape can help burglars enter your establishment. Moreover, the less debris and overgrowth you have outdoors, the better. CCTV cameras are an old reliable system that you can trust. Lastly, you can consider adding a fence that protects your building while adding a custom design that matches your dental office's logo.
Don't Forget to Update Your Property Insurance Plan
If you are in the health business, you might understand the importance of a reliable insurance plan. Every establishment and establishment needs a backup plan if a tragedy or complication strikes in the building. A building-like insurance plan, such as commercial insurance, can help you rebuild and cover your expenses in an emergency. Moreover, protect your investment and dental equipment by having a professional commercial insurance service ready to help.
In case of a fire, earthquake, or a simple robbery, you can trust your commercial insurance plan to back you in expenses. The last thing you want is to turn your profits into renovation costs to cover the damage from an event that would have been insured. Protect your dental establishment by investing in an insurance company that fulfills your needs and understands the necessities of your dental office.
A dental office retrofit needs more than budget and good planning. Moreover, you'll need to improve infrastructure, safety, and equipment to enhance your dental service and promote your dental establishment. Don't hesitate to upgrade your practice and invest in quality equipment, as you'll provide better services for your patients. If you want to be in charge of the best dental office in town, follow these tips and see the changes yourself.